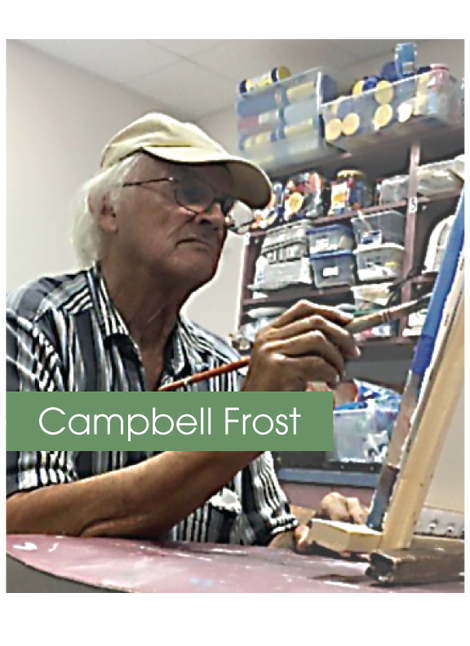 Campbell Frost's first published work of art, a pencil sketch, appeared in the nationally-syndicated
Ripley's Believe it or Not
daily newspaper feature in the late 1950s, an honor previously bestowed upon "Peanuts" cartoonist Charles M. Schulz. Since completing his service in the US Army in the 1960s and obtaining a degree in Fine Art from The University of Tennessee, Campbell has worked as a full-time artist and art instructor.
Today, many of Campbell Frost's paintings are licensed internationally, and appear on products ranging from digital jigsaw puzzles to commercial quilting fabric. His work has been hailed by art critics, recognized in numerous juried art shows, and displayed by regional arts centers (who regularly seek Campbell's popular prints as part of their fund-raising efforts). His work has
also
been featured in upscale galleries in the Southeastern United States.
Now in his eighth decade, Campbell has finally decided to begin releasing his favorite
ORIGINAL
paintings to collectors.
This sale represents the first time most of them have been seen by the public
.
For open-edition prints and products featuring the paintings of Campbell Frost, please visit our sister site: www.campbellfrost.com
Copyright © 2023, Campbell Frost Fine Art