Original paintings by Campbell Frost
​​
Created over a period spanning 50 years, most never before shared with the public.
To
schedule a private
viewing
, or to
check the availability of ORIGINAL paintings
, reach us through our
CONTACT
page. If you'd like to make an online purchase of an ORIGINAL piece, we can provide an invoice at the time of your request. All paintings are offered on a first come, first served basis.
​
"Keep out"
Oil on canvas
36 by 36 inches
$20,400
Probably Campbell Frost's most iconic painting, he visited the subject matter, which might more accurately be entitled "windows in time," in several paintings, before committing this final image in oils on canvas. The painting reflects new life, in the form of Queen Ann's Lace, juxtaposed against the backdrop of broken glass and beautifully detailed aging wood. Through the far window, you can almost hear the gentle waves massaging the shore.
​
​
"Low Tide"
Oil on canvas
20 by 24 inches
$13,600
Campbell Frost's love of the beach is once again reflected in this exercise in nighttime serenity. A glorious full moon illuminates the focal point of gentle waves, while the foreground is masterfully painted in a slightly out-of-focus manner, emulating the way our eyes would actually perceive the cool sandy dunes and swaying seagrass. In a recent live exhibition of this piece, an admirer reported that she could "actually smell the ocean" in the scene.

​​
"26 cents a Gallon"
Oil on canvas
18 x 36 inches
$14,400
In what has proven to be one of Campbell Frost's most popular paintings, three abandoned gas pumps and an old service station storefront sit frozen in a landscape slowly being overtaken by the natural setting they, themselves, once encroached upon. The scene actually existed in a rural backroad in South Carolina, abandoned by progress in the form of the Interstate Highway system. The gas pumps were ultimately removed, and with them any visual evidence that they ever existed.
​
​
"Reflected Glory"
Oil on canvas
18 by 24 inches
$11,600
A favorite place of Campbell Frost and many of his students (who underwent Plein Air lessons here), Sumter South Carolina's "Swan Lake Iris Gardens" is the only park in the United States known to play host to all eight species of swan. One of them, featured in this painting, swims blissfully in the beauty of its surroundings.
​
​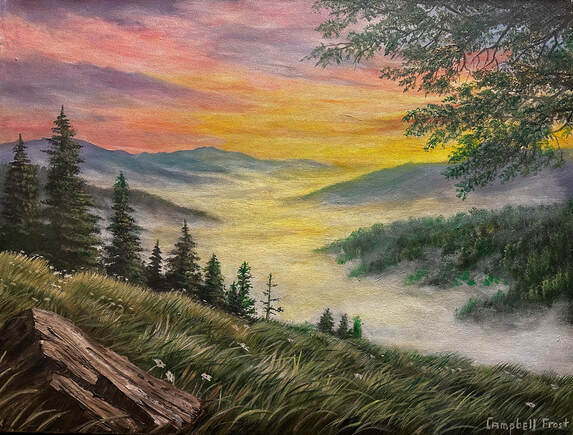 "Smoky Mountain High"
Oil on Canvas
18 by 24 inches
$11,600
If any location rivals Campbell Frost's love of Carolina beaches, that place is the Smoky Mountains of Tennessee. Campbell obtained his fine art degree from the University of Tennessee, not far from the foothills of the mountain scene reflected in this paintings. The range's name is apparent in the subject matter.
​
​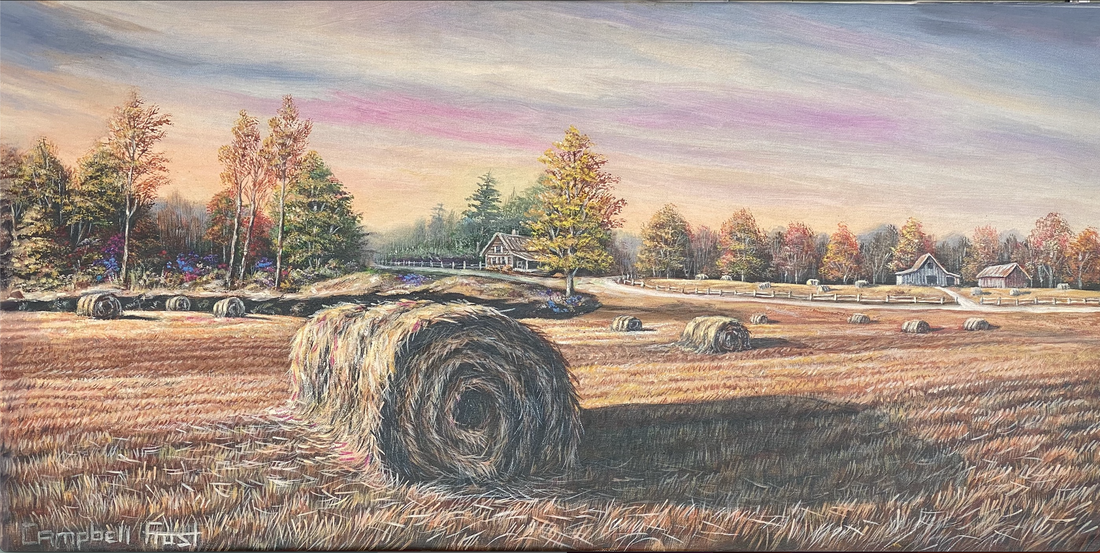 "Harvest"
Oil on canvas
18 by 36 inches
$14,400
​This iconic vision of the American Farm has, in public showings, been "recognized" by dozens of patrons, each remembering it from his or her childhood, though they grew up thousands of miles apart. In reality, the scene existed in a rural Carolina setting, though, clearly, it could be equally found in the midwest or on either coast.
​
​
"Southbound"
Oil on Canvas
18 by 36 inches
$15,000
Slightly damaged in storage, this incredible piece has been restored to its original glory. Painted nearly five decades ago, the scene existed near a highway close to famed South Carolina painter Jim Harrison's home. Jim was one of Campbell Frost's closest friends in the art community. "Southbound" (named for the geese portrayed in their annual Fall trek to warmer climes, and not the rail itself), took months to complete, and is probably Campbell's most detailed painting. The individual stones in the piece are rivaled in detail by the distinct blades of grass depicted within it. It was likely this piece (in a private showing) that prompted late art critic Martha Scott Beavers to proclaim "Campbell Frost is one of the best photorealism artists in the state [of South Carolina]."
​
​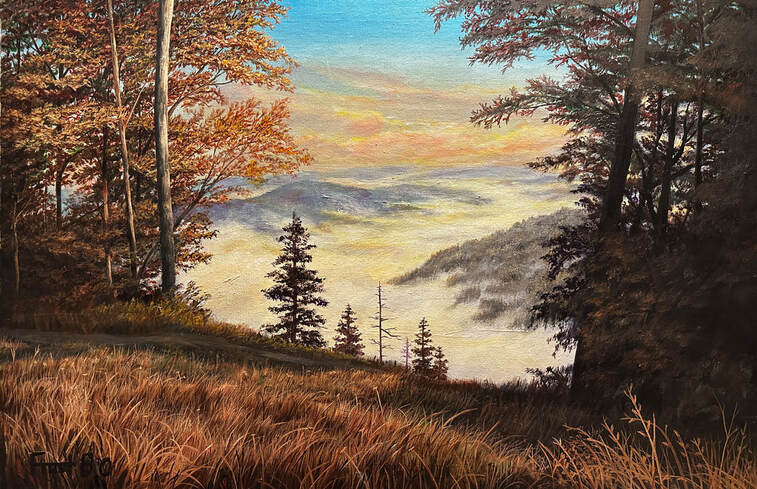 "Smoky Ridge"
Oil on canvas
24 by 36 inches
​$15,500
In this stunning piece, Campbell Frost revisits Southern Appalachia's Smoky Mountain range, capturing the splendor of mist lifting to the morning clouds, shadows of the detailed trees serving as a midpoint to changing colors of Fall represented in the grass as well as the leaves. Recently exhibited, this is proving to be one of Campbell's more popular paintings.
​
​
"Storm Warning"
Acrylic on canvas
24 by 48 inches
$18,600
The largest piece Campbell Frost currently has available, "Storm Warning," features an Atlantic Coast lighthouse, awaiting the coming storm. The painting acts as a visual representation of the classic "red sky in morning" phrase, alerting sailors to inclement weather. The breaking dawn is concealed in layers of colorful clouds, carefully blended to enhance the definition of the crashing waves, sand, and seagrass in the foreground.
​
​
"Break Time"
Oil on canvas
18 by 24 inches
$11,600
A bucolic summer day is depicted in this painting by Campbell Frost. Grazing cows are a common sight in the Southeastern United States (and, of course, elsewhere). During a "break" in the day, several of these bovine denizens take shelter in the shade of a friendly tree, while one carries on supplementing her diet with still-green tall grass, preferring it to its dryer cousin, bails of hay.
​
​
"Frosty Morn"
Oil on canvas
18 by 36 inches
$14,500
In contrast to the sweltering heat of the summer scene above, "Frosty Morn" (a title admittedly incorporating a bit of wordplay reflecting the artist's name) captures a winter dawn, with detailed layers literally frozen in time. With the aid of a magnifying glass, you might begin to count the thousands of individual branches in the layers of visible trees. Like many of Campbell Frost's landscapes, the painting features an old barn, perhaps still in use, awaiting someone to open its ancient doors. One might also be tempted to see a Christmas light or two beginning to glow in the foreground's tiny fir tree.

​​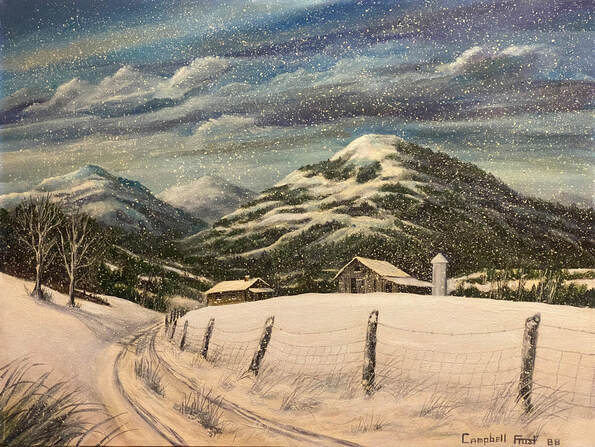 "last winter"
Oil on canvas
20 x 24 inches
$12,000
While snow isn't uncommon in the Southern Appalachian region, it rarely presents the opportunity to capture a painting this iconically winter. The scene might as easily be found in New England or Wyoming. Each location is home to aging farmsteads, many giving way to real estate developments or industrial use. This moment, literally frozen in time, can be yours, and serve as a reminder of people (and places) gone by. This was a commissioned piece, completed by Campbell Frost in 1988. We offer it on behalf of the new owner, who resides in the mountains of Tennessee.
​
​

​For open-edition prints and products featuring the paintings of Campbell Frost, please visit our sister site: www.campbellfrost.com

Copyright © 2023, Campbell Frost Fine Art